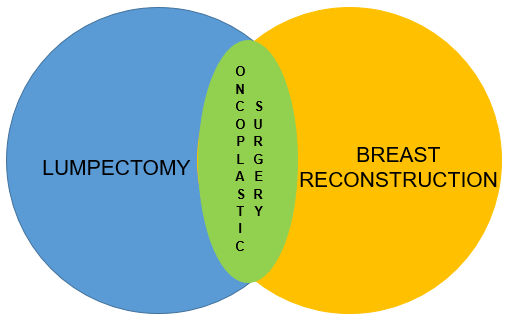 What Is Oncoplastic Breast Surgery?
What is "oncoplastic" breast surgery?
Although many patients are aware of breast reconstruction following mastectomy, many do not know about the option of breast reconstruction done at the time of lumpectomy. Oncoplastic surgery is the term used to describe rearranging the breast tissue at the time of lumpectomy to help improve the appearance of the breast after surgery.

What types of procedures can be done for oncoplastic reconstruction?
Reconstruction following lumpectomy can include rearrangement of tissue alone, breast lift, or breast reduction. Breast lift or reduction is also often recommended to be done on the opposite breast as well to improve symmetry after surgery. Learn more about the different oncoplastic reconstruction options HERE.

Are these procedures covered my insurance or are they considered "cosmetic"?
Although every situation needs to be confirmed individually, the State of California (and many others) mandates insurance coverage for any breast reconstruction for cancer, which includes oncoplastic surgery.

What questions should I ask to see if I'm a good candidate for oncoplastic surgery?
When you meet with your breast cancer surgeon, you should ask if he/she performs oncoplastic surgery or works with a reconstructive surgeon who does. Studies have shown that the best time to perform oncoplastic reconstruction is at the time of lumpectomy, not at a later surgery, so ask if you can have your reconstruction in the same stage.

Contact our office

For more information about oncoplastic breast surgery or to schedule a consultation with Dr. Peled, please contact our office at (415) 923-3011 or complete the online form here.